The portfolio of Zebra RFID handhelds currently includes various options such as a robust sled – the RFD8500 which can pair using Bluetooth to a smartphone, mobile computer or tablet. In addition, users have had the ability to go for an all in form factor such as the MC3330R or MC3390R which features in integrated keyboard, OS and display. Now, the MC3330R and MC3390R are refreshed as the MC3330xR and MC3390xR, respectively, offering key new features.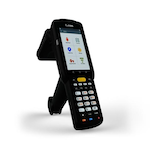 Product Overview
MC3330xR and MC3390xR offer an Android 10 based operating system for users to interact and run their RFID applications on. The products feature a 2.2GHz octa-core processor on the SD660 platform. The key difference between the versions is that the MC3330xR offers a circular polarized RFID antenna and a standard range barcode imager which is great for applications like cycle counting, inventory management. On the other hand, the MC3390xR includes a linear polarized RFID antenna with the option to use an extended range barcode imager. This version is great for further range RFID reading.
New Features
The new xR series offers various new features that in itself opens up the opportunity for new RFID use cases. The first new feature is integrated NFC (Near Field Communication). The inbuilt NFC can be used for applications like pairing other Zebra hardware directly to the RFID handheld or even reading NFC tags off products. For example, a user may read an NFC tag to simplify the authentication of an RFID software application. Another new feature is an upgraded 7000mAh battery which is an added plus for using your RFID handheld for a longer period of time and reducing battery management efforts. The RFID handheld also includes an upgraded standard range barcode imager.
Kitted Options
The 1 slot cradle that is used to charge the units is now available as a kitted option, simplifying the ordering process. This kit includes the cradle, power supply and DC line cord. Please keep in mind that you will still need to order the region specific AC line cord.
Recent Posts
CS710S Accessories guide The CSL CS710S is a Long-Range UHF RAIN RFID handheld sled reader. …

How to Select RFID Antenna?A RFID antenna is a necessary part of any RFID system. Unless the anten …

What's the Difference between RFID Tags, Inlays & Labels? RFID (Radio Frequency Identification) …