The Zebra ATR7000 can be considered a fixed RFID reader, but really, it is in its own class of RFID reading capabilities. This Overhead RTLS (Real Time Location System) Reader enables you with ultimate visibility over crucial items to your business, such as forklifts, inventory, employees, critical assets, and more! Knowing where these items can increase efficiency drastically.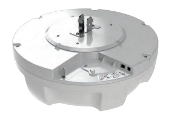 Zebra ATR7000 Overhead RTLS RFID Reader
The Zebra ATR7000 leverages multiple technologies to give it the capability of such thorough visibility. In addition to RFID reading capabilities, the ATR7000 also has beam-switching technology that allows it to pin-point the exact location of an asset at any given time. Using hundreds of narrow flashlight beams that operate simultaneously, the ATR7000 can quickly and efficiently find the location of an RFID tagged item.
Not only is the Zebra ATR7000 Overhead RTLS RFID Reader highly powerful, it is also easy to deploy. With a built-in mounting pole, the reader can be easily installed into the ceiling of a warehouse. You may also opt to add the standard vesa mount to your order, giving you even more versatile mounting capabilities.
Examples of environments that could benefit from the ATR7000 Overhead Reader:
Retail shops
Warehouses
Dock doors
Construction sites
Manufacturing plants
Other large facilities
Examples of use cases that could benefit from the ATR7000 Overhead Reader:
Area monitoring
Mustering
Asset tracking
Item movement tracking
Creating an overhead portal
Other use cases requiring the monitoring of a large space
If you think this ATR7000 RTLS RFID Overhead Reader sounds right for your use case, or for assistance deciding whether it is or not, please contact us!
Recent Posts
CS710S Accessories guide The CSL CS710S is a Long-Range UHF RAIN RFID handheld sled reader. …

How to Select RFID Antenna?A RFID antenna is a necessary part of any RFID system. Unless the anten …

What's the Difference between RFID Tags, Inlays & Labels? RFID (Radio Frequency Identification) …