The correct selection of an RFID tag can make or break an RFID project. With an ever growing list of RFID use cases, having the correct RFID tag or label is essential. For many applications, attaching an RFID label or tag can be done using a label form factor. An example of this is a pallet where an RFID tag is attached onto the outside packaging or a cardboard box where an RFID label attached using an adhesive.
However, for certain applications, alternative attachment methods are needed based on business requirements and the type of asset or item. The TagMatiks RFID Hang Tag is a great choice for these use cases where the hang tags are attached to assets using a fastener, such as a zip tie or nylon string as opposed to an adhesive.
The TagMatiks Hang Tags are designed for tough environments such as industrial applications as well as produce tracking applications that require UV rated and resistance from water, chemicals and washing. The RFID tags can be applied to metal or non-metal surfaces. The core RFID components including the RFID inlay are encapsulated within polypropylene synthetic material. The RFID tag is also tear resistant and comes with prefabricated hole for easy application.
Like other TagMatiks pre-printed and pre-encoded RFID tags and labels, the TagMatiks RFID Hang Tags include a pre-printed EPC that factory unique and locked for ease of use and pairing with the TagMatiks RFID software platform.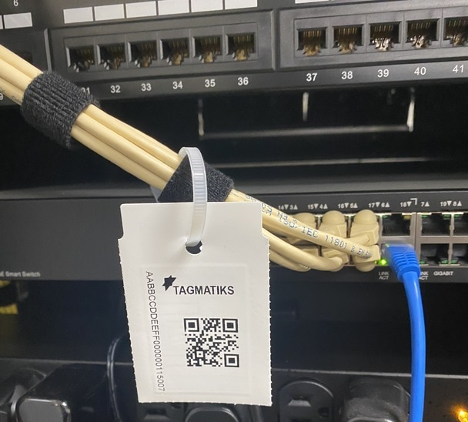 Typical applications with the TagMatiks RFID Hang Tag include Lab Equipment Tracking, Chemical Containers Tracking, Produce Bags Tracking, Industrial Assets like Pumps, Valves Tracking and Mining Bags Tracking.
Sample packs are available for purchase on RFID4UStore.com
Recent Posts
CS710S Accessories guide The CSL CS710S is a Long-Range UHF RAIN RFID handheld sled reader. …

How to Select RFID Antenna?A RFID antenna is a necessary part of any RFID system. Unless the anten …

What's the Difference between RFID Tags, Inlays & Labels? RFID (Radio Frequency Identification) …