When selecting a Zebra Handheld RFID Reader, you will be confronted with a wide array of choices. It may seem confusing at first, but asking yourself the following questions will help you with your decision making process:
Do I want a standalone RFID reader with a built in display, or do I want a sled RFID reader that connects to a separate smart device via bluetooth?
What environment will my RFID reader be placed in? Will I be using it under harsh conditions?
How far away are the items I will need to read with my handheld RFID reader?
Would I like to read barcodes as well as RFID tags?
These key questions will give you an idea of the type of handheld RFID reader that will best suit your use case.
For example, if you would prefer to have a sled RFID reader which can connect to a smart device, you can find a couple great options on our site.
The Zebra RFD8500, shown below, is one of the most popular handheld RFID readers on the market. This reader is best for those who would like to connect their RFID reader to a dedicated smart device, such as their phone or a tablet used in business processes. The RFD8500 has the option of being used as both RFID reader and barcode/QR code reader. In the package, you will get one reader sled, one USB charging cable, and one battery for the device.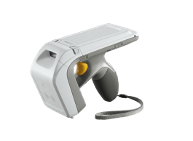 Zebra RFD8500 UHF RFID Sled with 2D Imager
If you would prefer a standalone, all-in-one device, we have a couple of great options of UHF RFID Handheld Readers with built-in displays that run on Android OS. On our site, you can choose between the Zebra MC3330xR Integrated UHF RFID Handheld Reader, and the Zebra MC3390R Integrated Long-range UHF RFID Handheld Reader.
The Zebra MC3330xR Integrated UHF RFID Handheld Reader, shown below, is a standalone unit that comes with an integrated 1D/2D barcode scanner and circular polarized RFID antenna, and a rugged design for all-day use in industrial environments. The Corning Gorilla Glass window on the display of the device features scratch and shatter resistant toughness, allowing workers to drop the device multiple times and not see any severe damage to performance.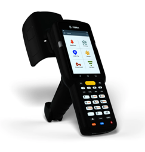 Zebra MC3330xR Integrated UHF RFID Handheld Reader
The Zebra MC3390xR Integrated Long-Range UHF RFID Handheld Reader is very similar to the MC3330xR in form factor, toughness, and design, but it has an integrated long-range linear polarized RFID antenna as well as the option to be configured with an extended-range imager, enabling you with a read-range of 60+ feet. This is one of the longest-range UHF RFID Handheld Readers on the market. The Zebra MC3390R is ideal for use cases that involve reading tags from a long distance in demanding environments where a standard handheld reader would not be able to perform as well.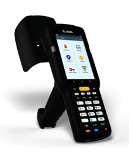 Zebra MC3390xR Integrated Long-Range UHF RFID Handheld Reader
Should you require additional assistance in deciding which Handheld RFID Reader is right for you, please contact us!
Recent Posts
CS710S Accessories guide The CSL CS710S is a Long-Range UHF RAIN RFID handheld sled reader. …

How to Select RFID Antenna?A RFID antenna is a necessary part of any RFID system. Unless the anten …

What's the Difference between RFID Tags, Inlays & Labels? RFID (Radio Frequency Identification) …