Zebra Technologies has a wide variety of products. They are well-known for the high quality of their hardware, including their line of industrial printers. The ZT400 Series Industrial Printers are no exception. You may be familiar with the ZT410 and ZT420 Industrial Barcode/RFID printers. We are now introducing the latest models of the ZT400 family: the ZT411 and ZT421.
In this blog post, we will cover some of the features of the new printers.
ZT400 Series Summary
The new ZT400 Series printers are constructed with an all-metal frame, making them ideal for harsh/industrial environments. They have a variety of connectivity options: Serial, Ethernet, USB, dual USB Host and Bluetooth 4.1. Add optional dual-band 802.11ac Wi-Fi/Bluetooth 4.1. Upon ordering, users can choose between three print resolutions. Users can pick and choose what features they prefer with the printers depending on their use case. If more features are needed down the line, there are a wide variety of field-installable upgrade kits to enable the printers with more features, such as being able to print on-metal RFID tags. Having field-upgradeable printers is a great investment for your RFID solutions. Down the line, you may find yourself needing to print on-metal RFID tags. Rather than purchase an entirely new printer to do so, you can simply upgrade your ZT411 Industrial Printer. This is just one of the ways Zebra has ensured that these printers will remain satisfactory to customers for long-term applications.
Key Features of the new Printers
Dual USB Host Ports
Save time by not having to repeatedly swap out your printer peripherals. With two USB ports, you can attach a keyboard and a scanner at the same time! This has drastic implications on the reduction of downtime spent switching from one peripheral to another with a single USB port printer.
Color Touchscreen
On the new display screen, instructions for setting up the printer are displayed in a clear and concise manner. Save time lost to the learning curve by giving workers a simple and intuitive mechanism to help them configure settings, integrate new print media, and establish shortcuts for repeatedly-used settings.
"Printhead element out" Detection
When a printhead goes out, valuable time and resources are lost. With this new feature, users will be notified when a printhead element is out. You can replace these printhead elements directly in our store through the following links:

203 dpi printhead for ZT420/421
300 dpi printhead for ZT420/421
Bluetooth
With Bluetooth connectivity, you can print something without having to physically walk to the printer. Save time and effort with multiple data sort devices.
ZT411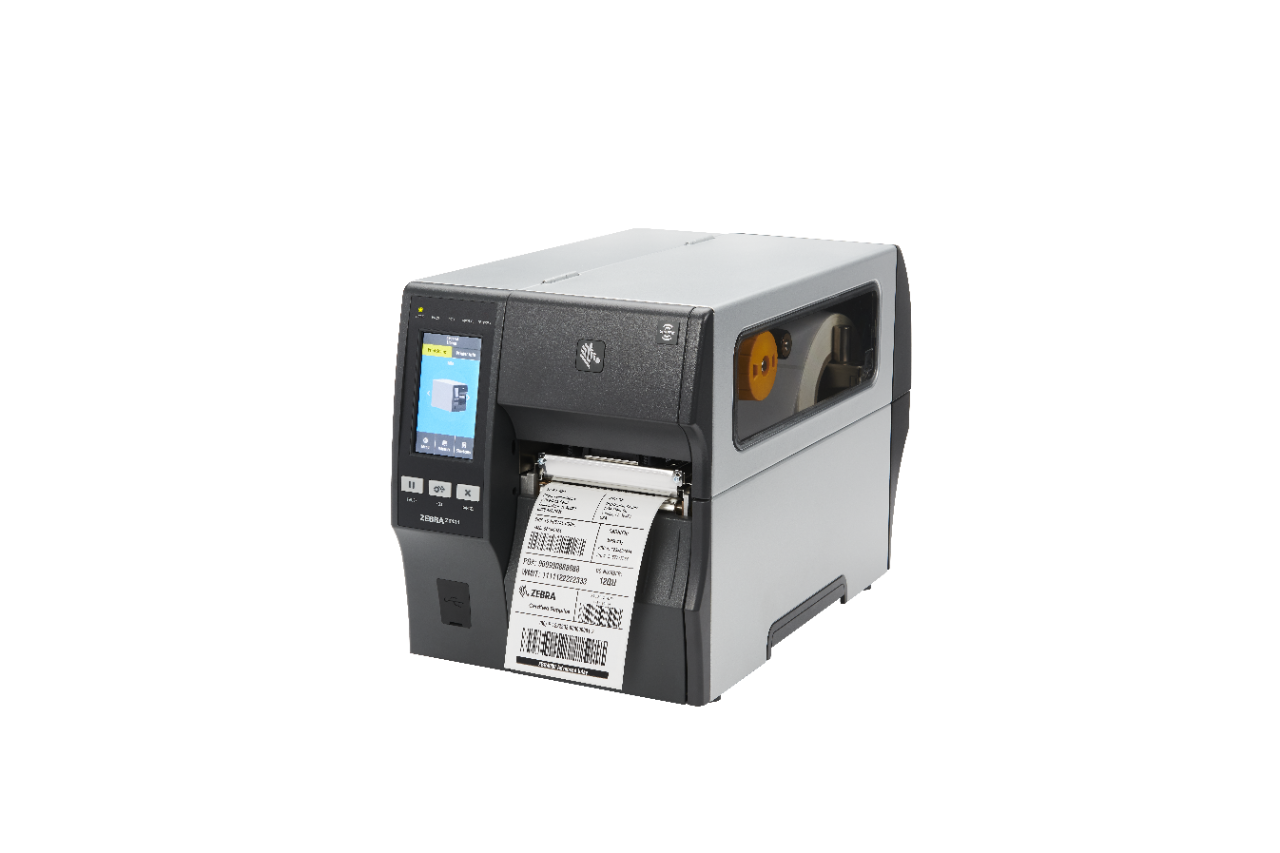 ZT411 Industrial RFID Printer printing a 4 inch width RFID label
The ZT411 features a 4.3 inch full color display for clear and concise printing constructions. Additionally, you can get extra-high resolution with the option to select a 600 dpi printer. The ZT411 is great for printing paper RFID labels, and it can also be upgraded to print thicker, on-metal RFID labels. The print-width of the ZT411 is 4 inches.
ZT421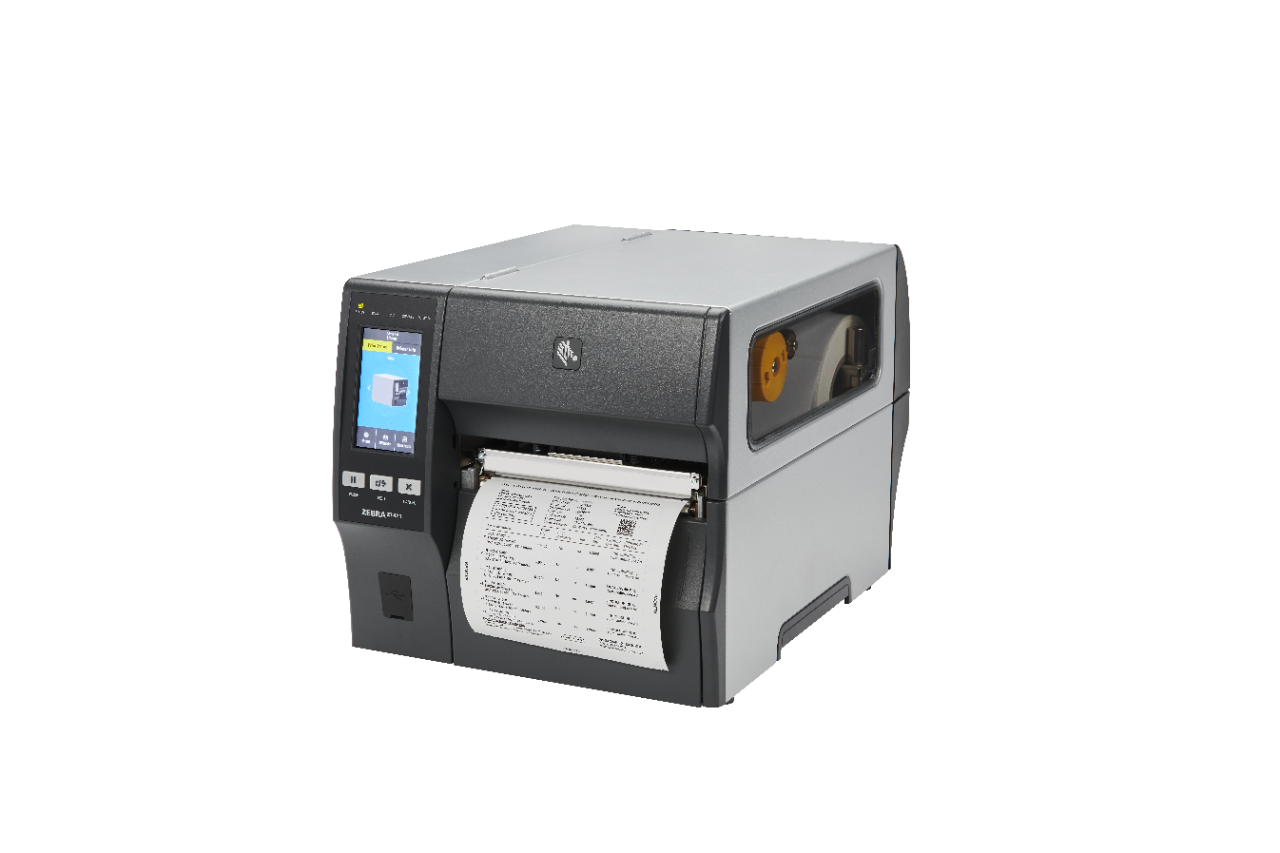 ZT421 Industrial RFID Printer printing a 6 inch width RFID label
The ZT421 has a print width capacity of six inches for large, clear printing of human-readable labels. The ZT421 is highly reliable and fast, with the ability to print 12 inches per second.
Who can use the ZT400 Series Printers?
Typical industries where users will reap the most benefits from the new Zebra printers include:
Manufacturing
Transportation & Logistics
Retail
Healthcare
What Applications are best for the new ZT400 Printers?
Asset Management
Cross Docking
Inventory Management
Lab Sample Tracking
Receiving/Shipping
Reverse Logistics
Work-in-Process Tracking
Compliance Labeling
Information Labels
Medical Record Labeling
Order Labeling
Prescription Labeling
Quality Control
Conclusion
The ZT400 Series Industrial Printers have been a customer favorite for years. In industries such as manufacturing, healthcare, and warehouse operations, working professionals have consistently relied on the bulk printing capabilities of 4" and 6" labels that the ZT400 series provides. Zebra has added some features to upgrade the performance of these printers so that customers can continue to get optimum satisfaction from their printers for years to come.
Recent Posts
Radio-Frequency Identification (RFID) technology has revolutionized various industries, from retail …

Introduction RFID technology has revolutionized inventory management and tracking process …

CS710S Accessories guide The CSL CS710S is a Long-Range UHF RAIN RFID handheld sled reader. Re-eng …