Impinj RFID is a class-leading manufacturer of hardware in the RFID industry. They provide an extensive range of RFID readers that can be applied to different use cases. RFID4Ustore is proud to offer a wide selection of Impinj RFID readers, which we will discuss here.
The following Impinj Fixed RFID readers are available through RFID4Ustore:
If you do not see the Impinj RFID Reader you are looking for, please contact us.
Impinj Speedway Revolution
The Impinj Speedway Revolution RFID Readers are high performance UHF RFID compliant fixed RFID readers that can be used in a variety of verticals. These fixed RFID readers are compact, with a square design that can be easily mounted on a ceiling, above a door, or anywhere you need to create a contiguous RFID read zone.
Speedway Revolution RFID Readers have capabilities such as the ability to sense RF "noise" and interference levels, meaning they can automatically readjust their reader configuration settings to provide the best performance in data collection.
Speedway Revolution RFID Readers come in two form factors, shown below. You can choose between the R220, which has Two antenna ports, and the Speedway R420, which has four antenna ports. The form factor you choose will decide how many RFID antennas you are able to include in your installation, unless a multiplexor is purchased to provide additional antenna connectivity. For more information on this, please view our blog post, "The value of the Impinj Multiplexor for the Impinj Speedway readers."

Impinj Speedway R220 Impinj Speedway R420
Impinj R700
The Impinj R700 RAIN RFID Reader is four port fixed RFID reader compliant with the GS1 UHF Gen2v2 standard which ISO/IEC standardized as 18000-63 The Impinj R700 has 10x the processing power and increased support for on-reader applications. Moreover, the Impinj R700 improves RAIN RFID performance at dock doors, conveyors, and store exits when used in conjunction with tags based on Impinj M700 series tag chips. The Impinj R700 antenna hub expands the number of antennas that can connect to an Impinj R700 reader by allowing eight antennas to connect to one antenna port for a total of 32 antennas per reader.
Features of the Impinj R700:
Enterprise-grade reliability and security
Connects like other IoT devices
Built to Withstand Tough Environments
Impinj R700
Impinj xArray
The Impinj xArray R680 RFID Reader is a fixed RFID reader with an integrated 52-beam array antenna. This means that a single xArray can provide wide area monitoring on large locations that a standard fixed RFID reader would not reach. The xArray is ideal for environments where the RFID tagged items are spread across a large expansion of space, such as a large warehouse or facility. One xArray can monitor an area of up to 1,500 square feet. Coverage can be expanded with additional xArray or xSPAN readers.
Features of the xArray:
Intelligent item locating with 5 ft. (1.5m) or better spatial resolution of (x,y) location.
Patented Autopilot functionality automatically optimizes the xArray for its environment, ensuring peak performance at all times.
Unique functionality with defined operating modes: Wide-area monitoring for tracking overall tag inventory; Locationing for obtaining tag x,y location; and Tag Direction for tracking tags moving through sectors.
Exceptional performance provided by 2-D array with 52 dual-polarized antenna beams.
Easy to use and maintain with IEEE 803.2af PoE, tilt sensor to detect when out of alignment.
Easy programming using Octane SDK, LLRP and Impinj extensions.
The form factor of the xArray, shown below, is a slim, low-profile design that can fit easily into a standard ceiling tile grid and blends in well with most environments.

Impinj xArray R680 RFID reader
Impinj xSPAN
The Impinj xSPAN is a fixed RFID reader that provides large area monitoring and is constantly collecting data from RFID tags within its range. It has an integrated RFID antenna with 13 dual-polarized beams and 3 sectors. This reader can detect RFID tagged items within an area of up to 1,000 square feet. Coverage can be expanded with the use of additional xSPAN or xArray readers. The reader also provides item movement detection, which can help with loss-prevention. This reader is best used in industries such as retail, healthcare, and manufacturing applications where a high volume of assets need to be monitored continuously.
Features of the xSPAN:
The xSPAN provides always-on wide-area monitoring, meaning it will consistently track your RFID tagged inventory and provide you with real-time visibility on all of your assets.
The xSPAN empowers loss prevention systems by providing exit detection. If an RFID tagged item leaves the facility, the xSPAN will register that movement.
Patented autopilot functionality ensures that the xSPAN is always automatically adjusting the reader configuration settings to provide the best performance.
The Impinj xSPAN R660 RFID Reader, shown below, is a lightweight and low-profile piece of hardware that can be installed easily onto a ceiling or wall.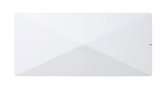 Impinj R660 xSPAN RFID Reader
For assistance in selecting the right Impinj RFID Reader for your RFID application, feel free to reach out to us!
Recent Posts
The Impinj R720 RFID Fixed reader proves to be optimal for RAIN deployments demanding processor-inte …

Zebra's ZT411 RFID On-metal Solution allows you to print and encode thicker metal tags for better …

Radio-Frequency Identification (RFID) technology has revolutionized various industries, from retail …