If you are wondering whether the latest fixed RFID reader from Caen is right for you, you have come to the right place! This blog post covers the features and functionalities of the Caen Quattro R4321P Small 4-Port Long Range RFID Reader. The Quattro R4321P is a compact long range RAIN RFID reader of the easy2read© product line, well suited for retail and warehousing installations.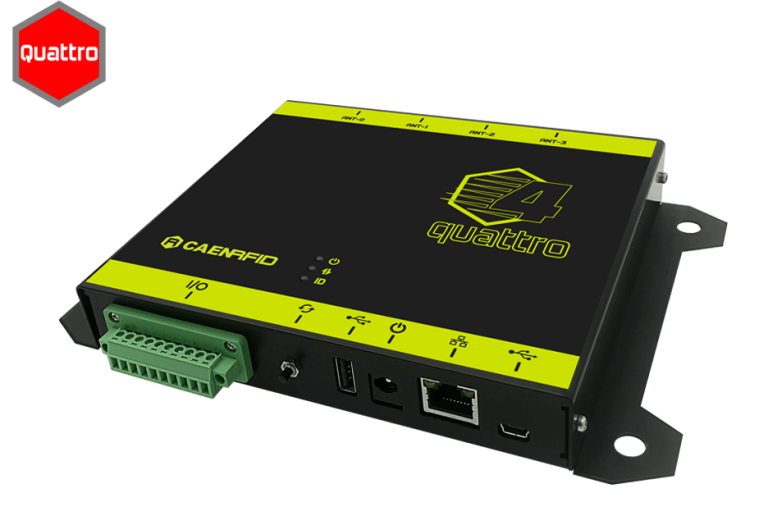 Caen Quattro R4321P Small 4-Port Long Range RFID Reader
Key features:
RAIN (UHF EPC Class1 Gen 2 ISO 18000-63) Compliant
Multiregional support
Four 50 Ohm TNC-RP antenna connectors
Power over Ethernet interface
Up to 31.5 dBm (1.4 W) output power
Internal scripting engine
USB host port
PoE or external power supply
The Quattro is a slim, but powerful, RFID reader. It has 4 antenna ports and is capable of 31.5 dBm maximum power. This is a great option for building portals and creating dense read zones. Its slim form factor makes it easy to install, number of antenna ports makes it easy to configure multiple read zones, and high output power makes it highly efficient at data capture. This can be very useful in retail applications such as inventory management or point of sales, or warehousing installations that monitor the incoming or outgoing of shipments.
Installation is easier than ever with the compact and slim form factor of the reader. It has both Ethernet and USB connectivity capabilities, so powering the reader will be a breeze, and multiple peripherals can be connected to the USB port including barcode scanners, keyboards, printers, and more.
The Quattro has an embedded Linux platform that is easily configurable using an internal web interface. This means that the behavior of the reader can be customized, giving system integrators a variety of options for how they would like the Quattro to perform.
What applications are best suited to this reader?
RAIN RFID portal for logistics
Industrial automation reading points
RAIN RFID tunnels
Access control reading points
Smart shelves, smart displays
If you would like further assistance in determining if the Quattro is right for you, please contact us!
Recent Posts
CS710S Accessories guide The CSL CS710S is a Long-Range UHF RAIN RFID handheld sled reader. …

How to Select RFID Antenna?A RFID antenna is a necessary part of any RFID system. Unless the anten …

What's the Difference between RFID Tags, Inlays & Labels? RFID (Radio Frequency Identification) …