BarTender® from Seagull Scientific is a software that helps companies large and small design and print variety of labels, RFID tags or cards in a simple and efficient way.
BarTender enables label design, data entry through customizable forms, and consolidation of designs with their Intelligent Templates that allow companies to produce flexible label designs without the need to create and maintain hundreds of separate documents.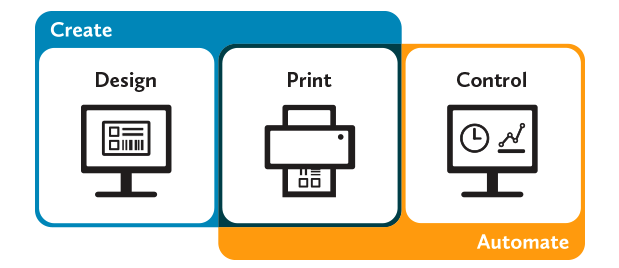 BarTender also optimizes and accelerates printing of barcodes, labels, cards, RFID tags and more through any printer or marking device. You can print from any OS, system, computer or web browser. You can also monitor live print status and detailed history of system usage, integrate with SAP and Oracle, apply secure document control and manage the entire system from one central location.
BarTender includes over 500 preformatted, ready-to-use barcode components, 60 symbologies and full support for GS1 standards. It also delivers flexible serialization, which enables unique serial identifiers to be issued at customizable frequencies.
Bartender can grow with your business as it has four types of licenses and the licenses vary by capabilities and how many printers will be using the application.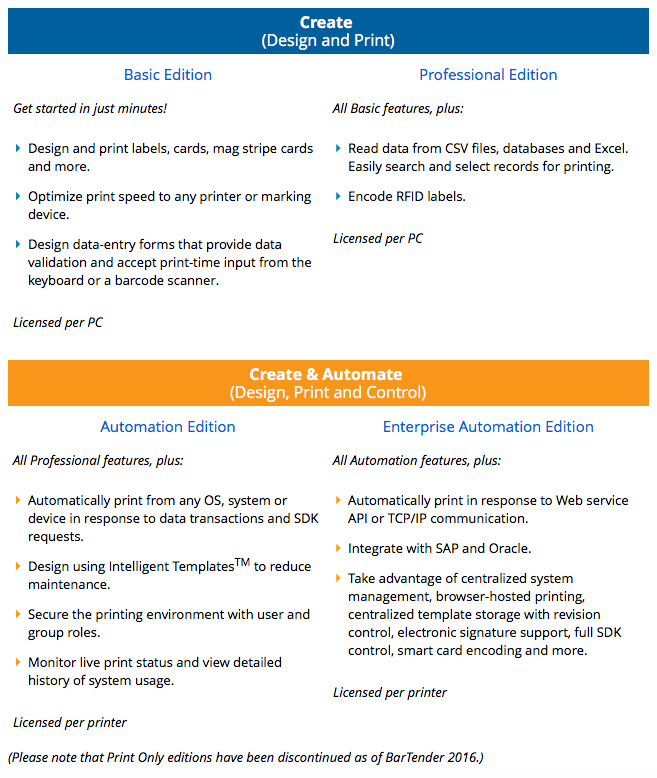 Image source Seagull Scientific website.
FREQUENTLY ASKED QUESTIONS
Q1: What is the difference between barcode and RFID?
There are several differences. Barcode has been around for many years and it's relatively easy to implement. While barcode is only a set of printed characters in special format, which can be printed or etched on variety of surfaces in 1D, 2D or 3D formats, it always requires a line of sight for reading (scanning). With increased data amount, the barcode gets more complicated and needs printers with higher resolution and better scanners in order to be read correctly. Barcode is not very suitable for automation, as it needs to be in a specific orientation towards the scanner in order to be read and that can be challenging in most applications.
On the other hand, RFID technology utilizes RFID tags, often in form of RFID smart labels that are traditional labels embedded with RFID inlay, which consists of an RFID chip and an antenna. Although slightly more expensive, the biggest advantage of RFID is that the smart labels can be read without the line of sight under most circumstances. They can hold relatively large amount of data and the ID and data is transferred very fast, often regardless the tag orientation towards the reader's antenna. RFID removes decreases manual labor and significantly improves efficiency of supply chain management, inventory tracking, management and other applications. For more information on RFID, please visit RFID4U's Explore Portal.
Q2: What do I need to do when I use BarTender for barcode printing and would like to start printing RFID labels?
If you have the Basic Edition, it does not support encoding of RFID tags, therefore, you have to upgrade to the Professional Edition. If you need to upgrade, please contact us!
All other editions, such as Professional, Automation and Enterprise Automation include the Encoding of RFID Labels feature.
Besides upgrading the BarTender to allow for RFID tag encoding, you will also need an RFID Printer Encoder as regular barcode printers do not have the RFID feature. We have wide selection here. To help you select the right RFID Printer Encoder for your application, you can check the "How To" post.
RFID labels look just like regular labels on the surface, however, they have an RFID inlay, which consists of RFID chip and antenna, embedded inside. The RFID printer encoder has to support the type of RFID label as far as frequency (the frequencies must match), as well as whether the label is suitable for thermal transfer, or direct thermal printing methods, label size, core size of the roll, outer dimensions of the roll and other parameters.
To learn more about how to select the right RFID tag for your application, you can review our blog post on this topic.
Q3: How do I upgrade from an old version of BarTender to the new version?
Every so often Seagull Scientific issues a new version of BarTender. Up until 2016 the versions were numeric, such as 10.1. From 2016 the version will have a year in the name. If you need to update your BarTender software to the newest edition, please contact us.
Q4: How do I add more printers to my Automation or Enterprise Automation Edition?
There are several options, you can add from 3 printers all the way to 100 printers to your current edition. Please contact us, if you'd like to add printers.
Q5: What about maintenance?
Seagull Scientific has program for monthly maintenance of each edition of BarTender. If you'd like to purchase maintenance, or upgrade your current maintenance program, please contact us and we would love to help you.
Recent Posts
The Impinj R720 RFID Fixed reader proves to be optimal for RAIN deployments demanding processor-inte …

Zebra's ZT411 RFID On-metal Solution allows you to print and encode thicker metal tags for better …

Radio-Frequency Identification (RFID) technology has revolutionized various industries, from retail …