Starting an RFID project can be a large undertaking. The task may seem so large that businesses do not know where to start. This is why we have created the TagMatiks AT Lite Kickstart Bundle. The TagMatiks AT Lite Kickstart Bundle allows users to get started with their RFID projects in the most cost-effective, efficient way possible.
To effectively work with RFID technology, three basic components are needed: a, RFID reader, RFID tags, and software to organize the data. All of these components are available with the AT Lite Kickstart Bundle. The Bundle comes with:
A Hand-held RFID Reader
100 Pre-printed/pre-encoded RFID Paper Labels
25 Pre-printed/pre-encoded RFID On Metal Labels
License to TagMatiks AT Lite
With all of these components, users can evaluate the relationship between their new RFID reader and the complimentary RFID labels included in the bundle.
If you intend to track something for asset management, you can use the labels provided with the bundle to test out different positioning of the tag on your items. Different positioning will yield different levels of performance, so it is a good idea to try several configurations and see what works best for your application. For example, a label facing front of an item may be ideal if you are scanning it as it sits atop a shelf, but may be detrimental in some cases of checking out tools from a tool room if you are passing the item over the top of a reader. You must decide where your RFID label should be positioned on your product to get the best read.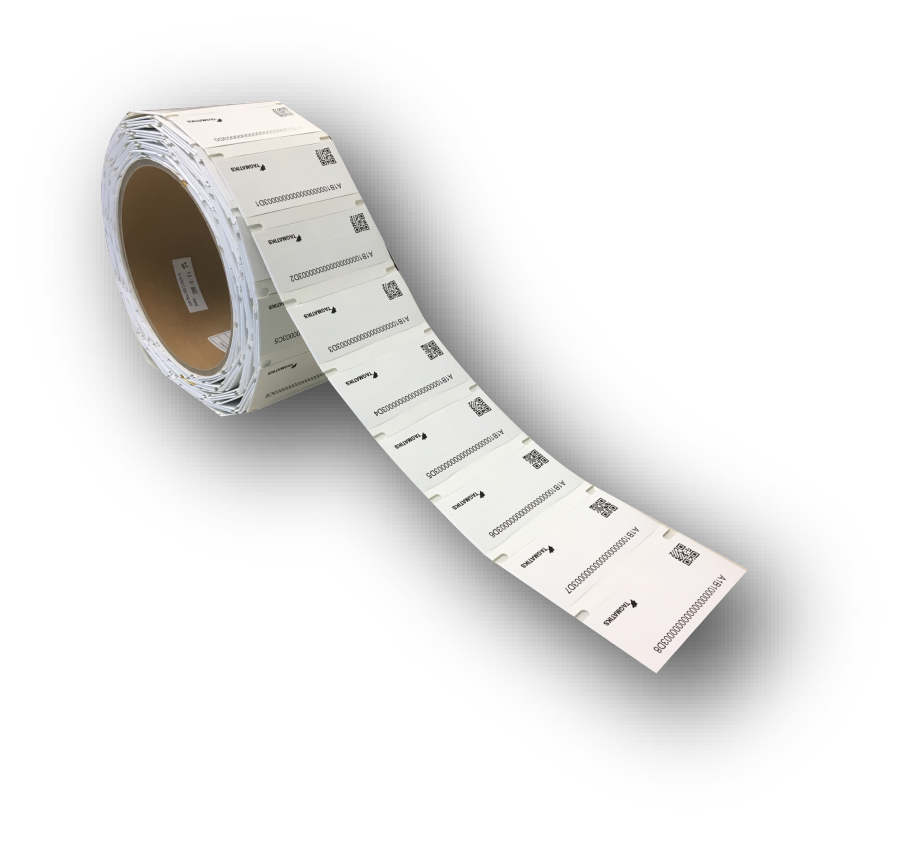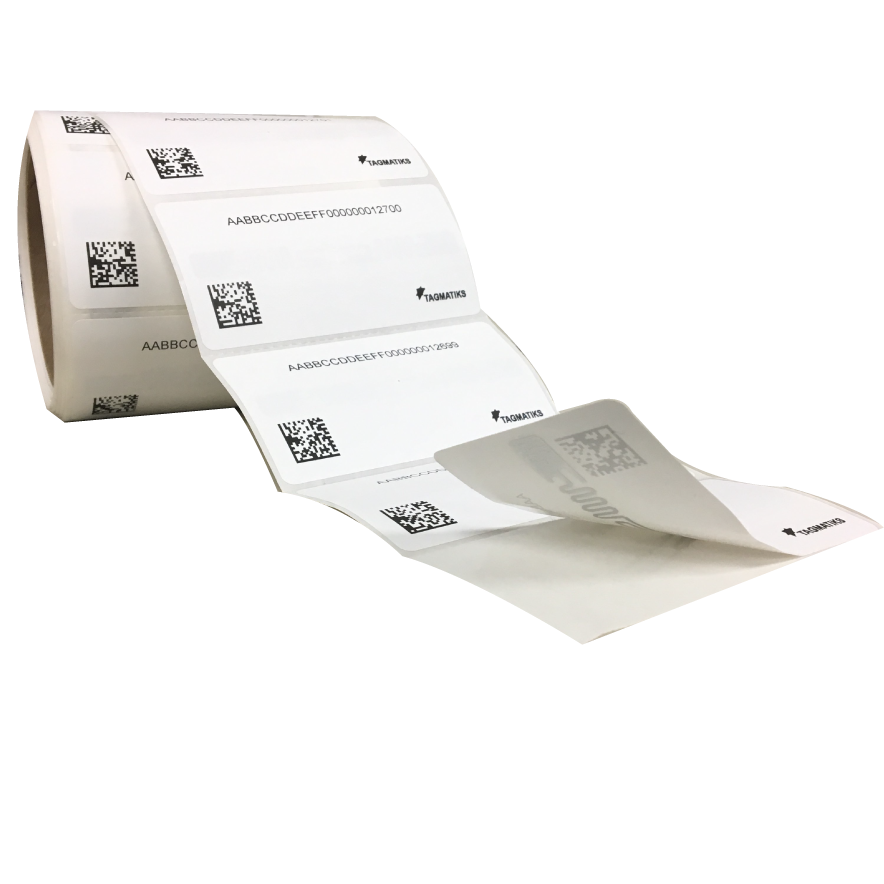 TagMatiks On Metal Labels (left) and TagMatiks Paper Labels (right) are both included with the AT Lite Kickstart Bundle.
A handheld reader is the simplest way to start testing out the performance of your labels. Even if you eventually want to use a fixed RFID reader to capture data, when you are just starting out your project, it is recommended to begin with a handheld reader because these are easier to work with. Simply turn on the device and begin scanning. Similar to a barcode scanner, the RFID scanner captures data within its proximity, but unlike a barcode scanner, a line of sight is not required for the RFID scanner to pick up the data in its surrounding field. This can be a bit of an adjustment for people who are just beginning their RFID initiatives, so take some time for a trial period before deploying your solution.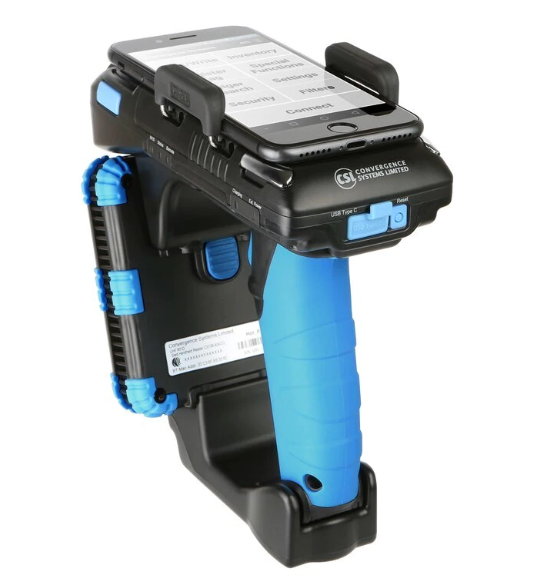 The CS108 UHF RFID Long-Range Handheld Reader is one of the options you can select for your handheld reader with the AT Lite Kickstart Bundle.
The AT Lite Kickstart Bundle comes with a perpetual license of TagMatiks AT Lite. AT Lite is an easy to install RFID asset management software that allows for full visibility over the captured data of your tagged items. You can perform a variety of functionalities with the software, such as being able to check in or check out assets, conduct guided inventory counts, and gain intelligence reports on the items you are managing. This can come in handy in a number of ways for an RFID project.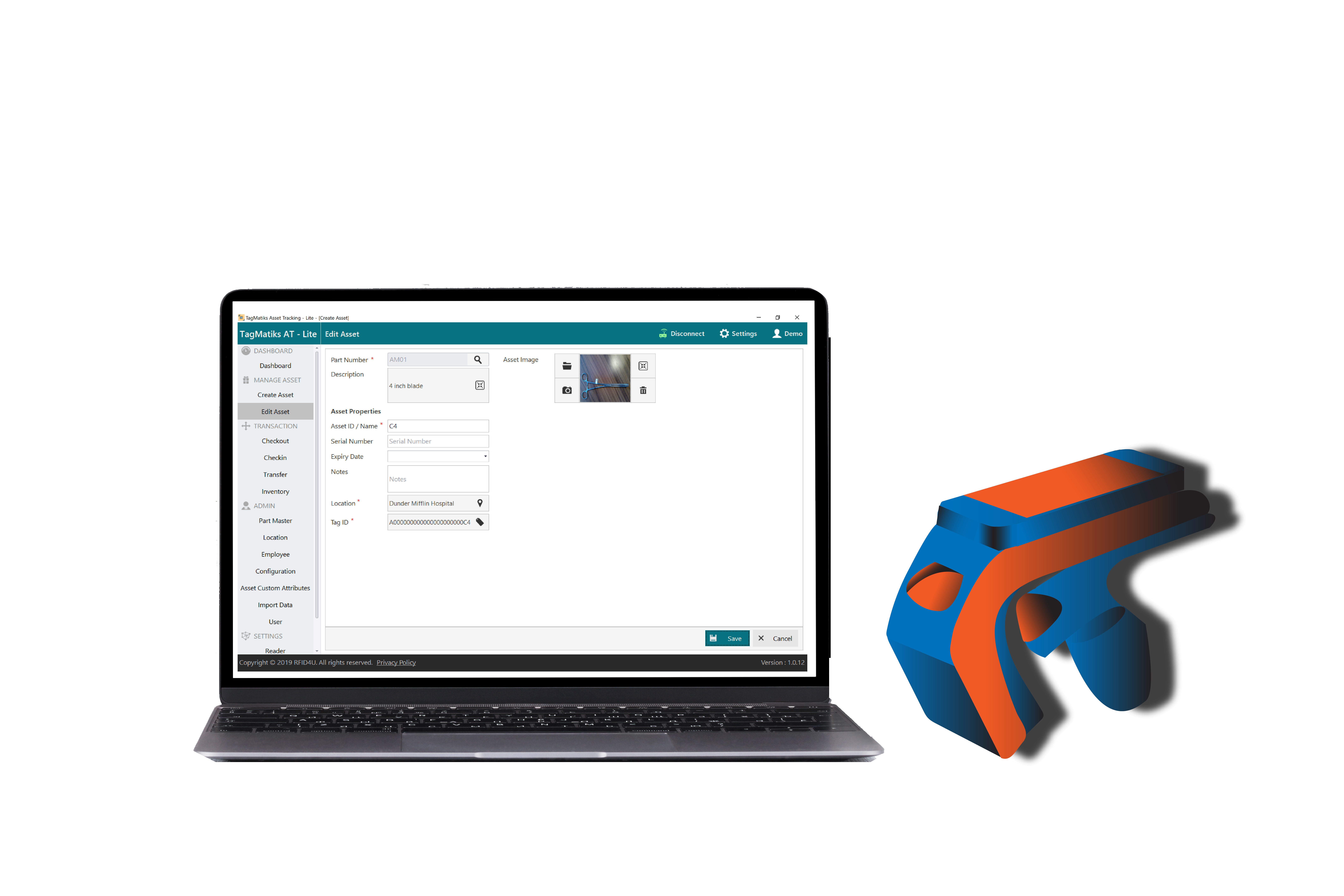 Screenshot from TagMatiks AT Lite - Commissioning RFID Tags in the software
Key features of TagMatiks AT Lite
Easy installation and setup
Simple migration to AT Enterprise
Quick checkin and checkout
Asset management
Guided cycle counts
Reporting & data
Streamlined RFID tagging
Multi-lingual
Use Cases for TagMatiks AT Lite
IT Asset Tracking: Attach RFID tags to IT assets such as laptops, printers, peripherals, etc, and use TagMatiks AT Lite to gain heightened visibility over these high-value assets.
Tool Tracking: Attach RFID tags to tools such as machinery, power tools, and equipment, and use TagMatiks AT Lite to monitor what tools are on site, when tools need to be serviced/repaired, and more.
Manufacturing: Attach RFID tags to your fixed assets such as machinery, equipment, fixtures, etc, and use TagMatiks AT Lite to manage visibility and associate locations.
Lab Equipment Tracking: Attach RFID tags to your lap equipment such as beakers, bottles, tools, and other lab material, and use TagMatiks AT Lite to reduce human error and waste associated with manual asset management.
Returnable Asset Tracking: Attach RFID tags to returnable containers such as bins, crates, pallets, totes, and other high value containers, and reduce the mismanagement of these assets with Tagmatiks AT Lite.
We highly recommend starting your RFID project with a kickstart bundle prior to diving into a full-scale RFID deployment. If you would like more assistance in determining whether the AT Lite Kickstart Bundle is right for you, please contact us!
Recent Posts
The Zebra FX9600 is a fixed RFID reader that is offered with both a 4 and 8 antenna port c …

In this blog post, we will help you with basic setup of your CS108 Handheld Sled RFID Reader.About …

When researching RFID printers, you will come across a huge selection of models, configurations, an …